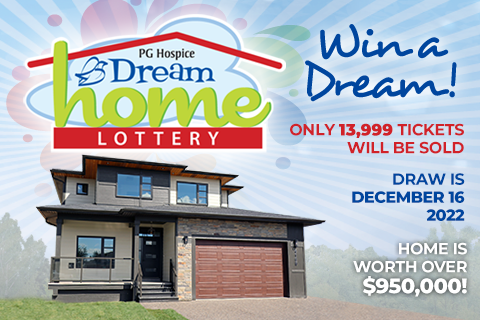 Dream Home tickets have SOLD OUT!
50/50 Tickets are still available.
No Results Found
The page you requested could not be found. Try refining your search, or use the navigation above to locate the post.
All Dream Home Tickets are entered to win the 3,000 sq. ft. Dream Home located at 4185 Mears Court in Prince George, BC. Only 13,999 Dream Home tickets are being sold. Value of the home is appraised at $950,000.00 and comes with 5 appliances valued at $7,815 and furniture* valued at $13,785 for a grand prize value of $971,600!
*Does not include baby room, linens, TVs, and decoration.
The Grand Prize Draw for the Dream Home is DECEMBER 16, 2022.
We are also offering TWO Hospice-At-Home 50/50 Draws! The 2nd 50/50 Draw is for a prize up to $250,000 with 20,000 50/50 tickets being sold.
The Second 50/50 Prize Draw will be drawn DECEMBER 31, 2022.
IMPORTANT: Dream Home & 50/50 Lottery tickets may be sold and purchased only in British Columbia. Ticket purchasers must be 19 years of age or older.