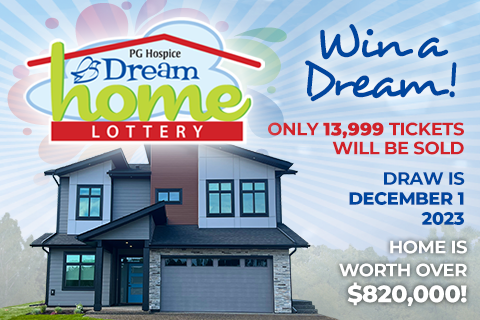 About The Dream Home
A brand new custom built 2,940 sq. ft. home worth over $820,000 could be yours!
THE 2023 DREAM HOME IS LOCATED AT 3445 MUNRO WAY IN THE UNIVERSITY HEIGHTS SUBDIVISION IN PRINCE GEORGE, BC. (view map)
This year's amazing home is custom built by Toor Enterprises and has an appraised value of $800,000. The Dream Home features 5 bedrooms, 4 baths, and a basement with a separate entrance.
5 appliances are included (washer, dryer, fridge, stove & dishwasher) from City Furniture valued at $8,100, and the Dream Home also comes furnished* by Ashley's Furniture valued at $16,400, Giving a Grand Prize Value of $824,500!
*excluding baby room furniture and towels.
Photos by T. Moore Photography.
Sponsors
Thank you to all the companies and people that make the Dream Home Lottery possible!
BRONZE
Andrew Sheret BFL Canada Brock White Canadian Home Builder Association Canadian Tire Clint Patterson Decked Out Patio Everything Baby Fox Plumbing Grand Entrance Tile Home Tech Energy Solutions Homemade Cleaning M Hawke and Associates Mothus Financial Services Inc Nelson Appraisal Northern Heating Papyrus Printing Pattison Media Precision FX RC Adams Replay Messaging Centre RIKR Painting Shannon Horrigan Real Estate Sign Tek Industries Signature Finish Telus Trevor Moore Photography Vista Radio Williams Signs Winton Homes