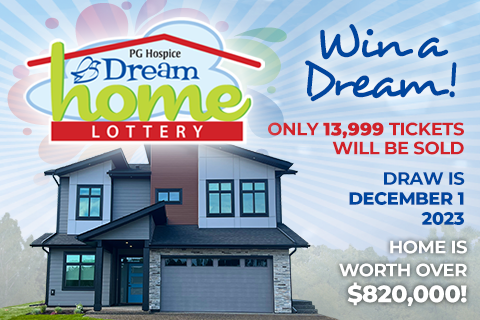 Privacy Policy
The Prince George Hospice Palliative Care Society and the Dream Home Lottery are committed to respecting and safeguarding the privacy of your personal information in accordance with BC's Freedom of Information and Protection of Privacy Act ensuring all information remains accurate and confidential. This Privacy Policy explains who we are, how we collect, share and use your personal information.
Who We Are
The Prince George Hospice Palliative Care Society is a non-profit organization focusing on providing hospice/palliative care for those persons who have a serious illness. This is centered on the physical, emotional, social, and spiritual care that enhances the comfort and improves the quality of life for those in need. We support guests with the power to choose the nature of the care they will receive while being provided with emotional support and a lifestyle that allows them to spend each and every day as they wish to.
What Personal Information (Data) We Collect and Why We Collect it
When you purchase a Dream Home Lottery Ticket from this SSL-encrypted website, the Dream Home Lottery site collects both non-identifiable and identifiable personal information. Non-identifiable personal information includes the identification you used to access our site. This consists of website browser/device type, IP address, time of use and pages visited. This is in place for the purposes of understanding how users interact with our site and improving our delivery of services and fundraising initiatives.
We collect identifiable personal information that includes names, addresses, email, and phone numbers, to enable the Dream Home Lottery and the ordering/processing of lottery tickets. As much as possible, through our online ticket sales, personal information will be input and collected directly by the individual. This information is only gathered upon your implied consent by you providing us with identifiable personal information when ordering your tickets.
Please note: For the purpose of online ticket sales, the Prince George Hospice Palliative Care Society does not have access to, or retain, any credit card information. Payment processing is handled by a third party (Bambora) with appropriate PCI compliance in place, data being processed only in Canada, and personal information is shared/communicated only with Bambora for the purposes of facilitating accurate ticket processing.
The customer information database is used for our records to keep track of the customers who purchase tickets, specifically e-mails so we can send information to utilize online ticket sales. In the event that you win a lottery prize, your information is used to contact you regarding your prize winnings.
Cookies
We use cookies to help you stay logged into your customer account between sessions and to store your cart information for the duration of your session. We do not employ tracking cookies to monitor your browsing behavior.
How We Keep Your Personal Information Secure
Safeguards are in place to protect personal information and data. Personal information used for data collection and ticket processing will be stored in locked filing cabinets in a secured office. In the case of risks such as unauthorized access, disclosure, loss or theft, copying or destruction of personal information, the Prince George Hospice Palliative Care Society will ensure full disclosure to any affected person.
Electronic information is secured on Hospice's server with a secure firewall and robust password protection. All data is secured locally on site at our office location and information remains in Canada.
Designated staff and/or volunteers with access to the information are required to sign a confidentiality agreement and are trained in procedures of protection and privacy regarding customers' personal information.
How We Use Personal Information
Personal information is utilized for the purpose of ticket sales, ticket processing, and marketing purposes. More specifically, e-mail addresses are used to promote the Lottery and increase online ticket sales. Ticket processing is performed only by designated staff and/or volunteers. After you purchase a ticket the information is sent to us where we can process your tickets. Part of the information goes into the respective Lottery Draws and the other is kept for our records, which are locked and secured, with restricted office access.
Disclosure of Personal Information and Disposal of Records
We do not sell, trade, or rent out any of your collected personal information. Email addresses are collected and used only for the purpose of promoting the Lottery and online ticket sales. These are sent out via Constant Contact as a mass emailing. All regulations specific to mass emails are adhered to and you can unsubscribe from receiving them at any time via the link provided in the emails.
The Prince George Hospice Palliative Care Society will only keep personal information as long as necessary for the fulfillment of the purposes for which it was collected, and for legal or business purposes. We will maintain sensible and systemic controls and practices for information and data preservation and destruction. Information that is no longer necessary or relevant for the identified purposes will be removed or destroyed.
Access To Your Personal Information
Upon request, we will give an individual an opportunity to review their personal information for accuracy and completeness as appropriate. At the request of the individual, they can have their information removed from our records at any time.
Children's Information
The Prince George Hospice Palliative Care Society does not knowingly collect information from anyone under the age of 18 and we do not target or direct this website to people under 18. If we find out that someone under 18 has given us personal information, we will take steps to delete that information. If you believe anyone under the age of 18 has given us personal information, please contact us as set out below.
Privacy Policy Changes
The Prince George Hospice Palliative Care Society reserves the right to change this Privacy Policy at any time. Any changes to this Privacy Policy will be posted to this page. The most recent version of this policy is reflected in the version date located at the bottom of this page. This Privacy Policy is not intended to and does not create any contractual or other legal right in or on behalf of any party.
How To Contact Us
If you have any questions regarding the Prince George Hospice Palliative Care Society's Privacy Policy or our handling of your personal information, please get a hold of us using the contact information shown below.
Phone: (250) 563‑2551
Mailing Address:
Prince George Hospice Palliative Care Society [Privacy]
1506 Ferry Avenue
Prince George, BC, Canada
V2L 5H2
Policy last updated: June 27, 2022